SVM-1VMC Mini Industrial
Dynamic Announcement:
**BT30-8Tool ATC for SVM-1 series avaliable.
**5 axis set under development.

Please contact us or our distributors for price and shipping cost.
| | | | | |
| --- | --- | --- | --- | --- |
| Introduction | Specifications | Upgrades/Options | Photo Gallery | Application Demos |
SVM-1VMC
is a professional Mini Industrial Vertical Milling CNC. It's a lighter version compared to SVM-2VMC but made as standard industrial level VMC too. With lighter worktable, SVM-1VMC can run faster especially fitful to high speed, lighter cuts on Al, brass etc. materials. It's equipped with standard industrial AC SERVO driving BT30 spindle, full linear ways and full AC SERVO 3 axis motion system that normally only be seen on big industrial CNC machines.

SVM-1VMC
comes with Standard 4 axis (5 axis version optional now!) industrial CNC controller with additional control panel. Unlike other PC based CNC controllers, Industrial CNC controller is much more professional and powerful. Industrial controller is a full closed system so compared to PC OS, it's much more reliable for long time and heavy duty machining works. What's more, it has professional macro functions to support Auto Tool Changger, tapping and custom functions etc. It's time to upgrade from hobby CNC to real industrial CNC now!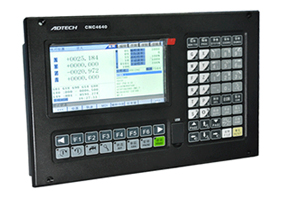 SVM-1VMC
can handle all materials from Plastic, Aluminium, Brass, Steel, Stainless Steel to Taitanium etc. It's a real industrial level CNC machine to do precision machining works. Typical machining tolerance is <0.02mm.

SVM-1VMC
is excellent for personal machinists, metal workshops, R&D departments, educations and batch product factories. We can also provide customized CNC controller installation like SIEMENS808D/Advanced, FANUC 0i series etc.

High rigid cast iron machine frame


Over 500kgs aging-treated cast iron frame to prevent losing accuracy by time

Full linear ways and C3 class ground ballscrews for all 3 axis


HIWIN™ High precision class linear ways and C3 class ground ballscrews for all 3 axis / Z axis enhanced with heavy duty roller type linear ways

AC SERVO driving BT30 spindle system with Pneumatic PDB


Industrial precision BT30 spindle unit / High end AC SERVO spindle motor system

AC SERVO 3 axis driving system


AC SERVO motor system for all 3 axis / Run faster, more smoothly and never lose step

Real industrial 4 axis /5 axis CNC control system
Industrial CNC controller with Additional control panel / Compatible G code system / Full English operation&programming manuals

Full enclosure and integrated coolant&chip removing system


Industrial style full enclosure / Chip drand coolant system built in cabinet stand / Easy moving FOOT MASTER casters

2nd High speed engraving spindle (optional)


Special optional 2nd engraving spindle for precision 3D engraving works

Harmonic drive 4th/5th axis system (optional)


High accuracy, Zero backlash 4th/5th axis set attachable

BT30-ATC-8T is now available on SVM-1 (optional)


SKYFIRE own developped BT30-8T ATC system / Less weight, full linear ways, optimized for small CNC

Various optional installations, upgrades, tooling and accessories (Please refer to datasheet)

MPG, tool setters, BT30 tool holder series, machine tools etc.
All SKYFIRE CNC machines will be tested on motion accuracy and kept running over 72 hours after assembly.

All machines will be applied with real cuts to exam machining accuracy before cleaning up, packing and shipment.

All SKYFIRE CNC machines will be packed up with standard plywood crates to make sure safe transport.

We also provide CNC programming, client sample test machining sevices to make sure customers can do right job with our machnes.

OPTIONS & TOOLING ACCESSORIES
Please refer to SVM-1 series DATASHEET for more machine options and high quality tooling accessories available. Order together with machine will save a lot for you!
More questions please refer to FAQ or directly email us for prompt answers:
info@skyfirecnc.com
We provide 12 month full free quality warranty and life long technology supports. Please review details in:
Warranty & Services document

DIMENSIONS

Table Size:

650mm×190mm / 25.6"×7.5"

Table Slots:

3×12mm Slots

Travel Range (X Y Z):

350mm×190mm×300mm / 14.7"×7.5"×11.8"

MAX Spindle Nose to Table:

400mm / 15.7"

MIN Spindle Nose to Table:

100mm / 3.9"

Spindle Center to Column:

230mm / 9"

MONTION FEATURES

Max On Table Weight:

50Kgs

Max Feed Rate:

15MPM / 560IPM

Positional Tolerance:

0.005mm/200mm

Repeatable Tolerance:

≤0.005mm

XYZ Traveling Tolerance:

≤0.02mm /200mm

1st Spindle Radio/Axial Run Out:

≤0.008mm at 200mm

SPINDLE CONFIGRATIONS

1st Spindle Taper:

BT30

1st Spindle Speed:

100-8000RPM

1st Spindle Driving System:

2200W AC SERVO Motor System

1st Tool Changing:

Air drive power drawbar

ATC System:

8 tool ATC optional

MOTION PARTS

3 Axis Driving:

High Performance AC SERVO driving System

3 Axis Motion:

HIWINTM H Class LINEARS for all 3 axis

Ballscrews:

C3 Class Ballscrews

Bearings:

P4 Class Bearings

ELECTRONICS

CNC Controller:

SKYFIRE CNC4640 industrial CNC controller

Axis Driving Power Supply:

AC power supply

Relay Output:

Integrated and expandable

POWER REQUIREMENTS

Power Input:

210-240VAC 50/60HZ Single Phase

(380VAC 3-phase optional)

Power Consumption:

Typical 5000W

MISCELLANEOUS FEATURES

Machine Shell:

Full closed enclosure with cabinet stand

Spindle Box Balancing:

2x Nitrogen springs

Lubrication:

AUTO centralization lubrication

Work Light:

LED work light

Coolant System:

Coolant system with swarf drawer integrated

Mist Cooling System:

optional

MPG:

optional

Air Blow Gun:

included

Air Source:

>0.5Mpa

Tooling & Accessories:

optional (refer to detailed tooling lists)

Other CNC Control System:

optional

OVERALL FEATURE

Overall Dimensions(L*W*H):

LWH 850*1400*1700mm

Net Weight:

600kgs

Package Dimensions(L*W*H):

LWH 1000*1600*1900mm

Gross Weight:

700kgs

Package Type:

Composite Plywood Case

STANDARD ACCESSOIES

SKYFIRETM CNC DRIVER DISK:

8G USB disk 1pcs

Machine Feet:

FOOT-MASTER casters 4pcs
| | | |
| --- | --- | --- |
| HVR-6 6" Harmonic Drive 4th Axis Set Installation | $1 | |
| 125mm 3-Jaw Chuck Kit for HVR-6 | $1 | |
| 4" 5th Axis Kit Installation (only operational with 5 axis controller) | $1 | |
| ATC BT30-8T Auto Tool Changger Installation | $1 | |
| Handheld MPG | $1 | |
| 10000RPM BT30 Spindle Upgrade | $1 | |
| 24000RPM BT30 Spindle Upgrade (support ATC) | $1 | |
| Change to 24000-36000RPM Metal Engraving Spindle | $1 | |
| 2nd High Speed Engraving Spindle Kit | $1 | |
| Electric Tool Setter Installation | $1 | |
| Other CNC Controller Solutions please contact us | $1 | |
| Other Toolings/Accessories please refer to machine DATASHEET or contact us | $1 | |